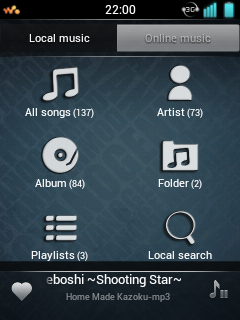 FEATURES:


Based on DDLF1, but compatible with any version!
Totally Dark Jelly Bean themed.
Each and every icon fine tuned to look like Jelly Bean.
A new Jelly Bean task manager ( Recent apps list).
Added Swipe to clear notifications on Status Bar.
ROBOTO as system font.
A new, AWESOME JELLYBEAN status bar and notification panel.
New music app based on stock Touchwiz, but contains DSP equalizer support.
NEW LOCKSCREENS- Never miss a chance to show off your cool lockscreen.
OTA FEATURE added. Now users can automatically update the ROM from OTA upgrades, in the settings menu.
A TOTALLY REVAMPED SETTINGS MENU ,With the following new controls : Statusbar Control, Lockscreen Control, Sound Effect Control, and Quick Toggles Control...finally, your phone is truly yours!
New Jelly Bean Digital Clock, analogue clock, and Jelly Bean Search Bar.
New smarter JellyBean keyboard.
Extented power menu: Now those long processes are long no more!
Zero delay root access...try and see!
MODDED COR PLENUS 2.0.2 KERNEL, be it more power for gaming, or power saving mode for Deep Sleep, Kuro kernel takes care of your batteries in the best possible way.
Battery life megaboosted, last upto 2 days in power saving mode!
CPU control feature added....high performance or underclock...choice is yours!
CRT animation added in Lockscreen, and other Superfast Jellybean animations!!!! Set animation speed to fast under "Lock screen and Other Settings" and see the increase in speed! Go zoom zoom zoom!!!
Kernel is suitable for everyone: default settings (conservative + sio ) is battery saving, while bcm + cfq settings give power boost: Antutu score 2000+ without any extra tweaks!
Improved memory management.
Two awesome launcher choices: You get both HOLO LAUNCHER, and the STOCK Touchwiz launcher, which is Jelly Bean themed.
ICS themed Swype keyboard. (look under Troubleshooting in the JBV3 Galaxy Y thread to download)
Full Screen Caller Mode: Now see your friends in FULLSCREEN while calling them.
SONY BRAVIA ENGINE added...your pictures are clearer than before!!
MULTILANGUAGE: Cestina , Dansk, German, Dutch, English ( US, UK) , Spanish, Estonian, French, Gaeliege, Hravatski, Islenska, Italiano, Kazakh, Latviesu, Lietuviu, Macedonian, Magyar, Nederlands, Norsk, Polski, Portuguese, Ronan , Slovencina, Srpski, Suomi, Svenska, Turkish, Thai, Greek, Chinese, Russian, Hebrew. For Arabic support, look in the "JellyBlast addons" section below. You can use the 13th Sept link.
Net speed tweaks: Increase your net speed.
Superfast Chrome browser included.
New superb bootanimation.
LOTS OF THEMES AVAILABLE UNDER "JELLYBLAST THEMES " BELOW!!!! (4th post).
More cool addons available under "Jellyblast Addons" below!
Enjoy!!!!
JELLYBLAST ADVANCED FEATURES:
Audio Enhancements:


i. BEATS™ audio for Marvellous, crisp sound. ( remember to exclude it from your task killer)
ii. SONY XLOUD™ enhancement for controlling sound distortion in high sound levels.
iii. SRS WOW® HD.
iv. Dolby Digital 3D surround sound.

SONY CYBERSHOT™ Camera enhancements: Clearer image even after zoom and larger image size ( 100%). Adapted from Cybershot mod by Rizal Lovins.
SONY BRAVIA ENGINE added...your pictures are clearer than before!!
Built in ADBLOCKER
HD Contact Image support
More coming after every update!!!!

INSTALLATION GUIDE:


Root your phone. If already rooted, proceed to the next step.
Make sure that you're on Stock kernel. Stock = Factory version ( The kernel that came while buying the phone). If you haven't changed kernel, ignore this warning. It is always advisable to start from stock in order to eliminate any possible runtime errors.
Remove a2sd or data2sd and format your 2nd partition if you have it. You can use them again after installing ROM and KERNEL.
Place the above 3 files to your sd card (NOT IN ANY FOLDER!!!)
Switch off your phone.
Go to recovery mode by pressing volume up+power+home.
Select "Update zip from SD card".
Select CWM for GT-S5570i. Now you're in Clockworkmod.
Use the volume keys to move up and down.
Wipe data and cache and Dalvik cache.
Now choose: Install zip from sd card.
Choose JELLYBLAST V3.
Choose "yes"
It will be Installed. Now reboot your phone. First boot will take time. Be patient.
If you have followed EVERYTHING above carefully, you will soon boot up to your new rom. Please wait until media scanning is completed.
Again go to recovery, go to CWM and flash COR PLENUS KERNEL.
Enjoy!!! :P

JELLYBLAST THEMES
1. ICS THEME: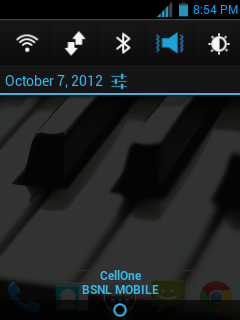 Flash
JBV3_ICSTheme.signed.zip
to get a beautiful ICS theme, complete with the Status Bar.
2. Holo themes: light and dark.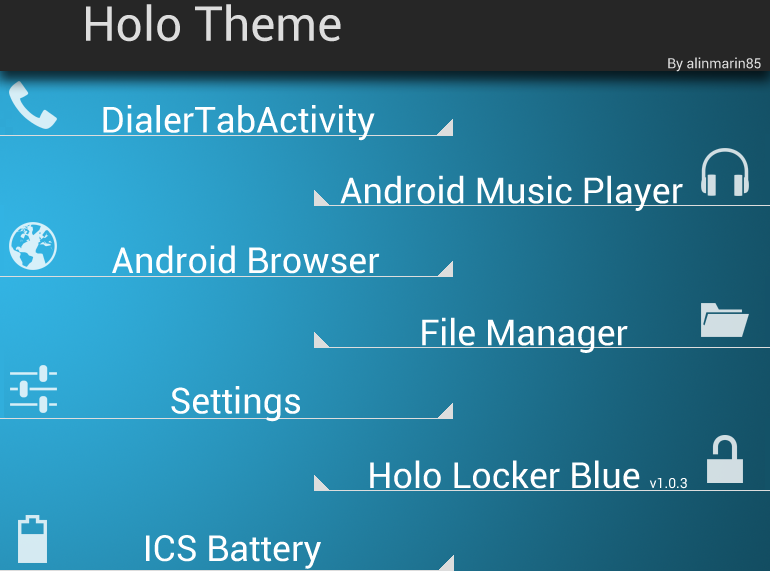 Click here for Light and Dark HOLO themes by Marinalin85:
Holo Light and Dark Themes
3. Galaxy S3 Theme:
Flash these zips via CWM:
Galaxy S3 Icon pack
by ElitSamsung.
JBV3_GS3Theme.zip
by me.
4. Nokia n8 ( Belle/Meego) Theme:
Flash this zip by pawanyadav:
NokiaICONSfinal.zip
5. Purple theme by Yash989: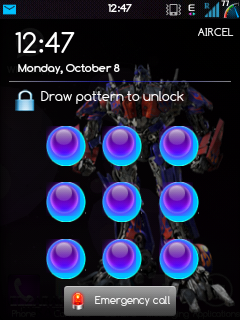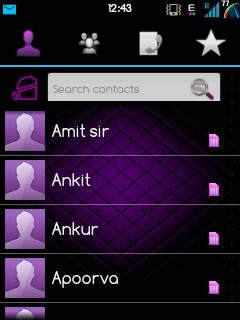 Flash these:
Purple theme.zip
Purple Icons.zip
6. Sony XPERIA theme: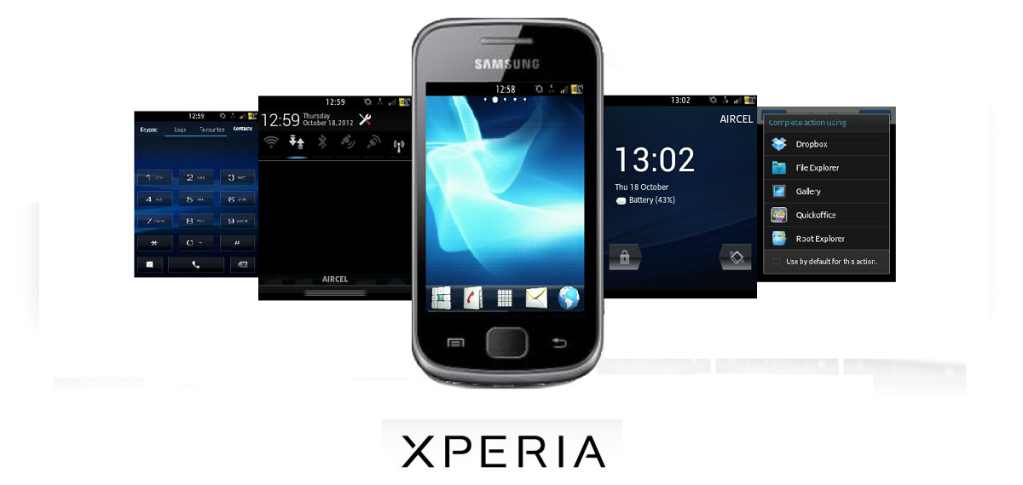 Flash this via CWM.
JBV3_XPERIA_theme.zip
Xperia like dialer
Xperia like toggles and much more!
7. Stock theme (Samsung touchwiz):
Get the stock icons by flashing
this
zip by Ronnieryan.
Get the stock like touchwiz status bar by flashing
this
zip.
8. BLUE THEME: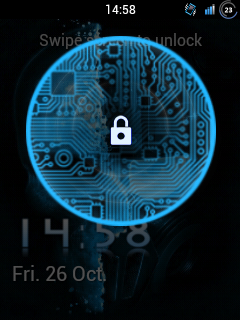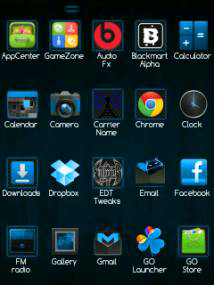 blue theme-
https://www.dropbox.com/s/m0g4jvlokl7olox/blue.zip
iicon-
https://www.dropbox.com/s/mak3odcd9b...T_man_pack.zip
keybrd-
https://www.dropbox.com/s/84exfm4wkl...167-signed.apk
choose galaxy theme.Launcher in screenies is golauncher with steel blue theme.
9. THE DARK KNIGHT RISES: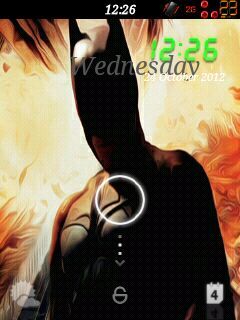 Theme zip link:
http://db.tt/6WZKtaet
10. CREAM RED THEME: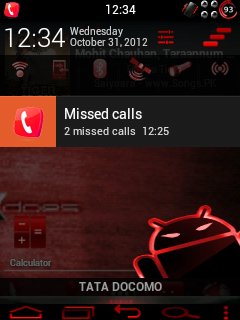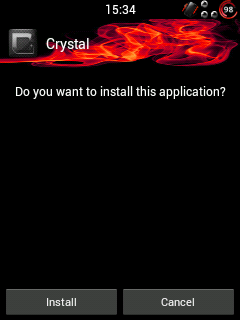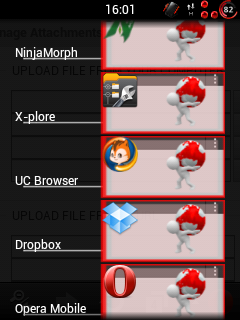 http://forum.xda-developers.com/show...&postcount=174
11. ZER! FRAMEWORK:
http://forum.xda-developers.com/show....php?t=1970507
NOTE : AFTER FLASHING ANY THEME, IF YOU WANT TO GO BACK TO ORIGINAL THEME, SIMPLY FLASH JBV3. VIA CWM AFTER FLASHING CACHE AND DALVIK CACHE (NO NEED OF DATA WIPE) , AND THEN INSTALL THE OTAs IN ORDER.
JELLYBLAST ADDONS:
1. ICS/JELLY BEAN soft buttons:
Surprise!!!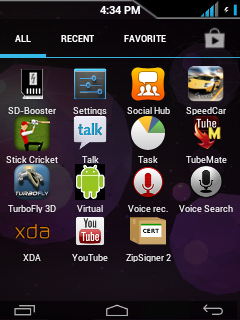 Presenting proudly the all new beautiful Nexus like soft buttons!!! Exclusively for my friends!!!!
Flash:
JBV3_SoftButtons.signed.zip
and:
Open the "Virtual" app in app drawer and do the following,
Give root permission,
1. Service Enable: on
2. Chose number of buttons: 5
3. Customize Button action: select BACK - lockscreen - HOME - lockscreen - MENU and OK
4. Lockscreen: off
5. Lock animation: off
6. Button Position on screen: Bottom
7. Orientation:. Horizontal
8. Invert Expand: off
9. Separate portrait: off
10. Button Colour: (your wish)
11. Button size: LARGE/Medium
12. Pullout button size: skip
13. Button opacity: skip
14. Pullot button opacity: skip
15. Remove pullout button: On
16. Vibration duration select: Off
17. Use proximity sensor: On (the sensor that was in addition to front speaker, beside logo SAMSUNG)
18. Dismiss on keypress: Off,. Done
Whenever you need the buttons,just wave your fingers over the sensors to summon them. When you're done, simply wave your finger over them and they will disappear!!! Magic? No?
Thanks to Somkll and Evanlocked..